Star Trek: Lower Decks
---
"Where Pleasant Fountains Lie"
| | |
| --- | --- |
| Episode Number | 17 (2.07) |
| Production Number | 2007 |
| Season | 2 |
| Stardate | |
| Original Airdate | 23-Sep-2021 |
| Teleplay | Garrick Bernard |
| Director | Jason Zurek |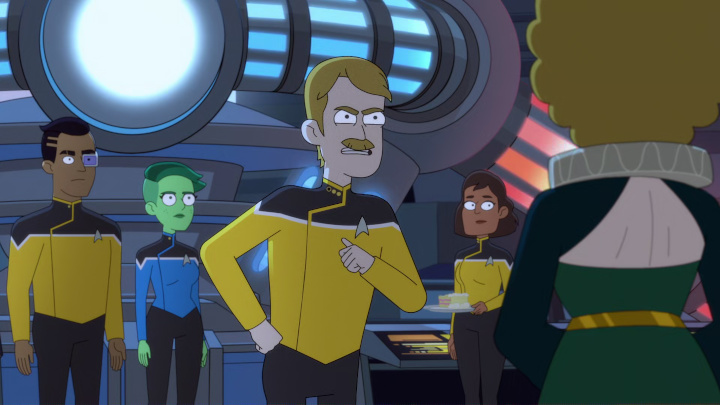 Synopsis
Mariner and Boimler are stranded on an uninhabited planet with a sentient computer. On the Cerritos, Lt. Commander Billups must prove his engineering abilities to an old adversary.
Starring
Tawny Newsome (Ensign Beckett Mariner)
Jack Quaid (Ensign Brad Boimler)
Noël Wells (Ensign D'Vana Tendi)
Eugene Cordero (Ensign Sam Rutherford)
Dawnn Lewis (Captain Carol Freeman)
Jerry O'Connell (Commander Jack Ransom)
Fred Tatasciore (Lieutenant Shaxs)
Gillian Vigman (Dr. T'Ana)
Special Guest Star
Jeffrey Combs (AGIMUS)
Guest Cast
Phil LaMarr (Molmol)
Jessica McKenna (Ensign Barnes/Cerritos Computer)
June Diane Raphael (Queen Paolana)
Paul Scheer (Lt. Commander Andy Billups)
Kari Wahlgren
Notes
Andy's full name is revealed to be Andarithio Billups.

Queen Paolana of the Hysperians is Billups's mother. Billups abdicated his line of succession to the throne when he joined Starfleet, also vowing to remain a virgin. (If he has sex, he'll automatically ascend to King.)

The human inhabitants of Hysperia live a medieval fantasy themed lifestyle. They live in castles, dress in renaissance clothing, and keep dragons as pets. They refer to technological advances with renaissance faire inspired names such as "dragonsbreath engine" (instead of "warp engine"), or blacksmith instead of engineer.
---