Star Trek: Enterprise
---
"Daedalus"
| | |
| --- | --- |
| Episode Number | 86 (4.10) |
| Production Number | 86 |
| Season | 4 |
| Stardate | |
| Original Airdate | 07-Jan-2005 |
| Teleplay | Ken LaZebnik & Michael Bryant |
| Director | David Straiton |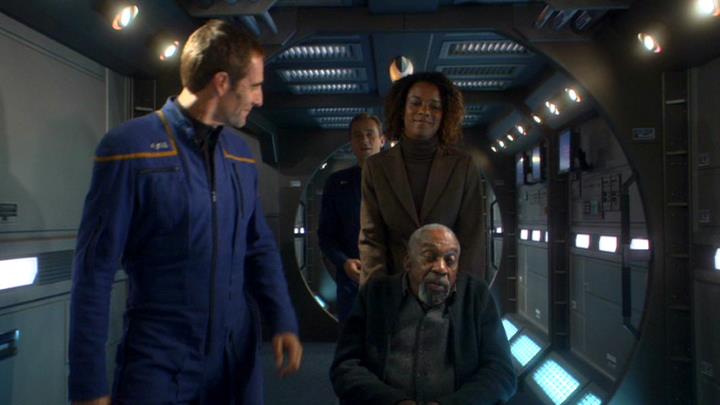 Synopsis
The crew welcomes aboard Emory Erickson, the inventor of the transporter device, set to conduct a series of experiments to test a radical upgrade to the technology. However, once Enterprise reaches the test site, Archer realizes that his old family friend has lied and is using the ship to search for his son, lost years before in a transporter mishap.
Guest Cast
Bill Cobbs (Emory Erickson)
Leslie Silva (Danica Erickson)
Donovan Knowles (Quinn Erickson)
Noel Manzano (Ensign Burrows)
Notes
Emory Erickson was a friend of Archer's father; he is like a second father to Archer, who was a friend of Quinn's.

They locate Quinn, but he dies soon after he is beamed aboard Enterprise.

T'Pol begins studying the Kir'Shara, which is having a profound effect on all of Vulcan. Phlox verifies that her Pa'nar Syndrome is cured, and notes that others on Vulcan are coming forward to be cured as well.

Ensign Burrows dies when Quinn's energy field touches him.
---