Star Trek: Enterprise
---
"The Council"
| | |
| --- | --- |
| Episode Number | 74 (3.22) |
| Production Number | 74 |
| Season | 3 |
| Stardate | Feb. 12, 2154 |
| Original Airdate | 12-May-2004 |
| Teleplay | Manny Coto |
| Director | David Livingston |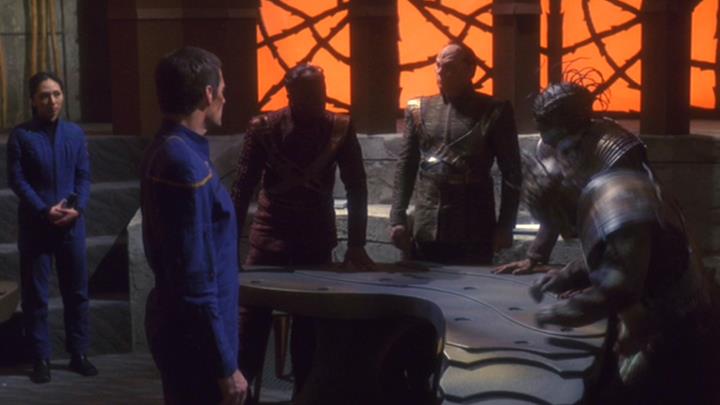 Synopsis
Archer and Hoshi stand before the Xindi Council as T'Pol and Reed lead a team into the heart of a Sphere.
Guest Cast
Randy Oglesby (Degra)
Tucker Smallwood (Xindi-Primate)
Rick Worthy (Xindi-Arboreal Janaar)
Scott MacDonald (Xindi-Reptilian Commander Dolim)
Josette DiCarlo (Sphere-Builder Woman)
Sean McGowan (Corporal Hawkins)
Bruce Thomas (Xindi-Reptilian Soldier)
Andrew Borba (Xindi-Reptilian Lieutenant)
Mary Mara (Sphere-Builder Presage)
Ruth Williamson (Sphere-Builder Primary)
Eric Lemler (Helm Crewman)
Porthos
Notes
Reptilian Commander Dolim stabs Degra, killing him. The Reptilians and Insectoids hijaak the super-weapon and open a vortex for Earth. They kidnap Hoshi Sato before disappearing.

MACO Corporal Hawkins is killed by sphere's automated defense system.

Council members Dolim and Janaar are finally named in this episode, but the Primate played by Tucker Smallwood is not.

The stardate is not given, but is inferred by the next epsiode.
---