Star Trek: Enterprise
---
"The Forgotten"
| | |
| --- | --- |
| Episode Number | 72 (3.20) |
| Production Number | 72 |
| Season | 3 |
| Stardate | |
| Original Airdate | 28-Apr-2004 |
| Teleplay | Chris Black & David A. Goodman |
| Director | LeVar Burton |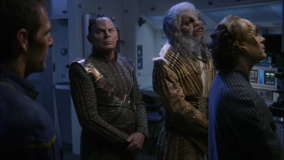 Synopsis
Two high-ranking Xindi offer to stop the launch of their super-weapon if Archer can prove they've been manipulated. Meanwhile, the crew mourns their lost mates.
Guest Cast
Randy Oglesby (Degra)
Rick Worthy (Xindi-Arboreal Janaar)
Bob Morrisey (Xindi-Reptilian Captain)
Seth MacFarlane (Engineer)
Kipleigh Brown (Crewman Jane Taylor)
Notes
Crewman Taylor was one of the 18 people lost in the attack. Archer asks Tucker to send a letter to her family.

Degra and Janaar are forced to destroy a Xindi-Reptilian ship to stop them from warning the Reptilians.

Degra provides Archer with the coordinates of the Xindi council, along with the coordinates to a subspace corridor that will get them there in three days.
---