Star Trek: Enterprise
---
"Harbinger"
| | |
| --- | --- |
| Episode Number | 67 (3.14) |
| Production Number | 67 |
| Season | 3 |
| Stardate | Dec. 27, 2153 |
| Original Airdate | 11-Feb-2004 |
| Story | Rick Berman & Brannon Braga |
| Teleplay | Manny Coto |
| Director | David Livingston |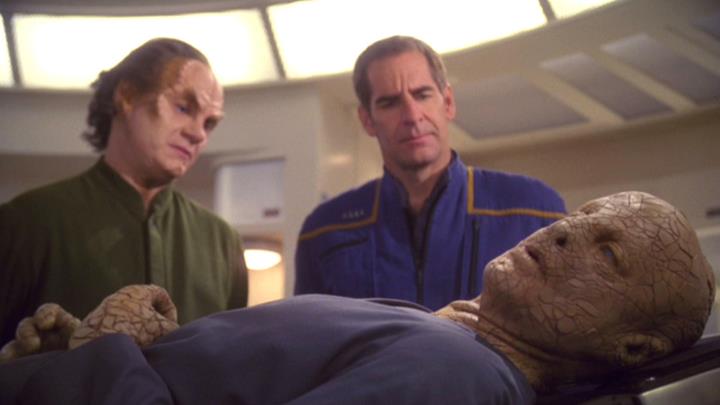 Synopsis
As Archer tries to unravel the mystery of a rescued alien, long-simmering feelings explode among his senior officers.
Guest Cast
Steven Culp (Major Hayes)
Noa Tishby (Corporal Amanda Cole)
Thomas Kopache (The Alien)
Notes
The alien is a test subject from a trans-dimensional realm, apparently one of the species who built the spheres.

Tucker begins neuropressure sessions with Corporal Cole and he two have become "friendly". T'Pol seems jealous. They end up kissing and then... an "exploration of human sexuality."

The friction between Reed and Hayes ends up with them beating the crap out of each other, but they end up settling their differences.
---