Star Trek: Deep Space Nine
---
"The Collaborator"
| | |
| --- | --- |
| Episode Number | 44 (2.24) |
| Production Number | 444 |
| Season | 2 |
| Stardate | 47921.5 |
| Original Airdate | 21-May-1994 |
| Story | Gary Holland |
| Teleplay | Ira Steven Behr & Robert Hewitt Wolfe |
| Director | Cliff Bole |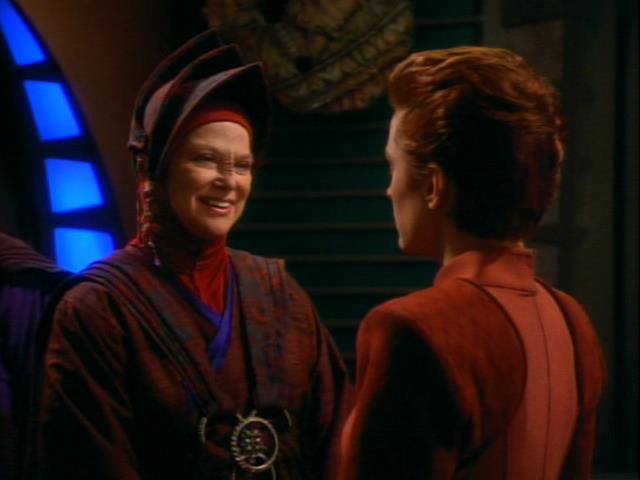 Synopsis
As the Choosing of the new Kai of Bajor approaches, Kubas Oak, Secretary of the former Cardassian Occupational Goverment arrives to meet with Vedek Winn. Kira must investigate the man she loves, Vedek Bariel, when she learns he may be the Cardassian collaborator responsible for the massacre of forty-three Bajorans at Kendra Valley.
Guest Cast
Louise Fletcher (Vedek Winn)
Philip Anglim (Vedek Bareil)
Bert Remsen (Kubas Oak)
Camille Saviola (Kai Opaka)
Charles Parks (Eblan)
Tom Villard (Prylar Bek)
Notes
Kai Opaka had given the location of the Bajoran rebels to save an entire village of thousands. Vedek Bareil was protecting Kai Opaka, who sacrificed her son to save the Bajoran villagers. He withdrew from the election to prevent the secret from being revealed and Winn was elected Kai.
---