Star Trek: Deep Space Nine
---
"Blood Oath"
| | |
| --- | --- |
| Episode Number | 39 (2.19) |
| Production Number | 439 |
| Season | 2 |
| Stardate | 47789.8 |
| Original Airdate | 26-Mar-1994 |
| Teleplay | Peter Allan Fields |
| Director | Winrich Kolbe |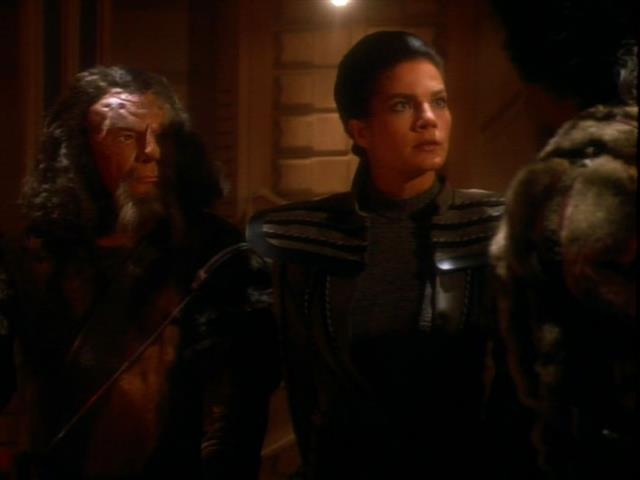 Synopsis
Jadzia Dax risks her life and her future with Starfleet to fulfill a blood oath Curzon Dax made with three aged Klingons.
Guest Cast
John Colicos (Commander Kor)
Michael Ansara (Commander Kang)
William Campbell (Koloth)
Bill Bolender (The Albino)
Christopher Collins (The Assistant)
Notes
All three Klingons appeared in different original Star Trek episodes.

Commander Kang also appeared in Star Trek IV: The Undiscovered Country and in the Voyager episode "Flashback".

John Colicos also played Baltar on Battlestar Galactica.

Kor is at least 100 years old; Koloth is at least 150.

Curzon Dax is the godfather of Kang's son, who was named Dax in his honor.

Kor will return in the fourth season episode "The Sword of Kahless".
---