Star Trek: Deep Space Nine
---
"Q-Less"
| | |
| --- | --- |
| Episode Number | 7 (1.07) |
| Production Number | 407 |
| Season | 1 |
| Stardate | 46531.2 |
| Original Airdate | 13-Feb-1993 |
| Story | Robert Hewitt Wolfe |
| Teleplay | Hannah Louise Shearer |
| Director | Paul Lynch |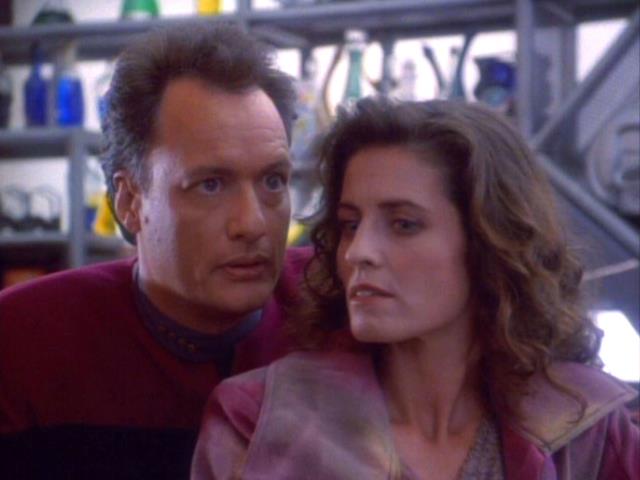 Synopsis
After a two-year journey through the Gamma Quadrant, Vash arrives at Deep Space Nine loaded with treasures. Unfortunately, the mischievous Q has followed her, and once he's on board the trouble begins. Meanwhile, the station experiences a series of violent power outages. While Quark helps Vash auction off some of the mysterious treasures she has acquired, the crew struggles to find the cause of the power source before the station is torn apart. When Q is accused of causing the trouble, he only hints at where the true cause lies. One thing is clear: if the crew doesn't act fast, the station will be destroyed.
Guest Cast
John De Lancie ("Q")
Jennifer Hetrick (Vash)
Van Epperson (Bajoran Clerk)
Tom McCleister (Kolos)
Laura Cameron (Bajoran Woman)
Notes
Vash was last seen with Q in the Next Generation episode "Qpid". Vash's first appearance was in the TNG episode "Captain's Holiday".
---