"Guess Who's Not Coming To Dinner"
Episode #2.1
Original Airdate 9/21/99
Written by David Kohan & Max Mutchnick
Directed by James Burrows
Transcript by Rob Durfee
CAST
Eric McCormack (Will Truman)
Debra Messing (Grace Adler)
Sean Hayes (Jack McFarland)
Megan Mullally (Karen Walker)
GUEST CAST
Shelley Morrison (Rosario McFarland)
Tom Gallop (Rob)
Leigh-Allyn Baker (Ellen)
Keith Biele (Richard)

---
SCENE I: Grace's Apartment
(WILL and GRACE are moving boxes.)
WILL: Ok. This is the last one. I still don't get why you didn't just hire moving guys.
GRACE: I think we did fine on our own.
WILL: I know, but...moving guys are hot.
GRACE: Ahem. Firemen are hot. You want me to set something on fire? So, do we like my new apartment?
WILL: We do. You're gonna love it here. I don't think it smells anything like cat pee.
GRACE: Why are you that man? Why are you an awful, heinous breeder of discord?
WILL: I'm kidding.
GRACE: Are you kidding?
WILL: I'm kidding.
GRACE: Are you kidding?
WILL: It smells like room deodorizer. [BEAT] Cat-pee-scented room deodorizer.
GRACE: Shut up! This is a big deal for me. My god, you and I haven't spent more than 24 hours apart since I dumped my fiancé on our wedding day. What a proud moment that was.
WILL: I'm gonna miss living with you.
GRACE: Yeah?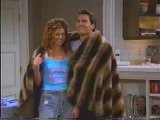 WILL: Yeah. You know, the way we tell each other what to wear in the morning. The way you fall asleep in front of the TV with that little string of drool from the mouth to the shoulder.
GRACE: The way you try and make Jewish soup for me when I was sick.
WILL: Way you perch on the balcony and make cooing noises, jutting your head back and forth. [COOING] No, no, no. That was pigeons. I got--
GRACE: See? I'm trying to be sentimental here, and you're doing shtick.
WILL: I don't wanna get sentimental, 'cause if I get sentimental, I'll realize... how much I'm gonna miss you.
GRACE: I'm gonna miss you, too.
[WILL CHUCKLES]
GRACE: Go.
WILL: Yeah, right.
GRACE: Go. I don't wanna get upset.
WILL: I really like your new place.
GRACE: Thanks. Call me when you get home.
WILL: First thing.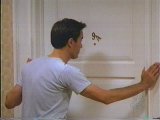 GRACE: Bye.
WILL: Bye.
[GRACE SIGHS AND CLOSES THE DOOR, APARTMENT 9A. WILL STARES AT THE DOOR, AND ADJUSTS THE CROOKED "A" ON THE DOOR. HE WALKS ACROSS THE HALL INTO HIS APARTMENT.]
SCENE II: Will's Apartment
(WILL is at the table drinking coffee and reading the paper.)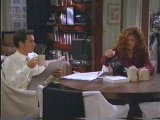 [GRACE ENTERS, WEARING HER PAJAMAS AND CARRYING AN EMPTY COFFEE CUP. SHE SITS DOWN AT THE TABLE AND POURS COFFEE AND PICKS UP A SECTION OF THE PAPER.]
GRACE: It is weird living apart.
WILL: Yeah. We are living apart, right? I mean, this--this is healthier?
GRACE: Of course it is. Will, if it were unhealthy, we wouldn't even think to ask if it were unhealthy.
WILL: Good point. Oh, so I, uh, I gave my phone number to that guy at Borders books.
GRACE: Phone number or business card?
WILL: Business card.
GRACE: Not hot.
WILL: Why? What?
GRACE: "Hi. I'm intimidated by the possibility of rejection, but my secretary isn't. Call her."
WILL: I'm not intimidated by anything.
GRACE: Then call.
WILL: Oh, yeah, and what if he's there, huh? He says hello, and...where does that leave me?
GRACE: You are a disgrace to your people.
WILL: Ohh...thank you! That--that is where you are wrong, you know. T-there's this whole myth that it's easier when 2 guys are involved. Totally untrue. I-it is not so easy for a guy to meet another guy in this city.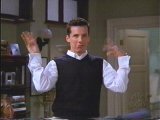 JACK: [ENTERING] It's raining men! Hallelujah! Great night at the clubs! Jack was en fuego all night. The lovelies were buzzing around me like... Like what?
WILL: Like moths to a flamer?
JACK: Actually more like fat to a "Will is fat." [LAUGHS]
WILL: [BRITISH ACCENT] Oh, touché. Touché.
GRACE: Ok, if you two are gonna play Bitchy McSnipe, I'm gonna head back to my place. I just don't understand why someone would subject themselves to a constant barrage of insults day after day.
[GRACE OPENS THE DOOR TO LEAVE AS KAREN ENTERS.]
KAREN: Honey, your new dump smells like cat pee.
GRACE: [TO WILL] Never mind.
KAREN: [TO JACK] Hey, poodle.
JACK: Who's your daddy?
KAREN: You are.
WILL: Sorry to get you up so early, Karen.
KAREN: Oh, grow up, honey. I haven't been to bed yet.
WILL: I need to speak to both of you about Rosario.
JACK: Hey, hey, hey, that's Mrs. Jack McFarland to you.
WILL: I thought you were Mrs. Jack McFarland.
JACK: Ha ha. And I thought you didn't have love handles. I guess we're both wrong. Ha ha ha.
WILL: I got a call from my friend at the I.N.S. yesterday, and apparently the marriage between a 30-year-old gay man and a post-menopausal Salvadoran maid flagged something in their computer.
KAREN: Ok, are we done yet?
WILL: No. Look, they're gonna start making random visits to verify that Jack and Rosario are a real married couple. So since their official residence is listed as your place, I think the best thing would be for Jack to move into your penthouse.
JACK: [LIKE EVA GABOR] I just adore a penthouse view! [NORMAL] Ooh. My very own sexless marriage. Just like Will and Grace.
WILL: No, not like Will and Grace. We don't even live together anymore. She's got her own apartment.
JACK: [SOTTO, TO KAREN] 8 dysfunctional feet away.
KAREN: Lord, they're like Siamese twins who are joined at their boring personalities.
WILL: Look, Grace and I are now totally independent-- separate homes, separate lives, separate--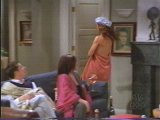 GRACE: [ENTERING, WEARING ONLY A SHOWER CAP AND A TOWEL, AND RUNS INTO THE BATHROOM] Showering, showering, showering...
Karen: Good lord. Who jiffy-popped her head?
SCENE III: Karen's Penthouse, Rosario's Room
(KAREN is showing JACK Rosario's room.)
KAREN: Well. Heh heh.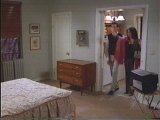 JACK: This? This is my penthouse view? [POINTING OUT THE WINDOW TO A BRICK WALL]
ROSARIO: [ENTERING] Did you say my name?
JACK: No, I said, "This is my penthouse view?" But I understand; it sounds exactly like "Rosario."
ROSARIO: You know, you never talked to me this way before we were married.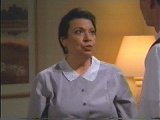 JACK: Sorry, Rosie. I'm... Still a little tense about our conjugal bed. [POINTING TO THE BED]
KAREN: [TO ROSARIO] Hey. Hey, you're on the clock, tamale. Get to work!
ROSARIO: Listen, lady, I'll squash you like a wormy apple. [ROSARIO EXITS]
JACK: I hate it here, Karen. I wanna be in the good part of the house with you.
KAREN: Well, that's sweet, Jack, but this is where the help stays.
JACK: But I'm not help.
KAREN: Honey, you married help. You're help. Oh, and, um, one other thing: Stan sleepwalks, so if you bump into him in the middle of the night and he puts the moves on you, just go with it. You might get a mink in the morning. [WINKS] Bye.
SCENE IV: Will's Apartment
(WILL is sitting on the couch reading. Naked.)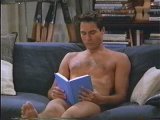 GRACE: [ENTERING] Hi. Just wanted to get some pudding. You got pudding at the market. I didn't. [TAKING A PUDDING CUP FROM THE FRIDGE] This is fat-free, right?
WILL: Yeah.
GRACE: Great. Thanks. Bye. [EXITS, THEN IMMEDIATELY RE-ENTERS] Oh, it's chocolate. I thought I grabbed the swirl.
WILL: You know, it's funny. Speaking of chocolate versus swirl, I'm naked! I'm devoid of clothing. I'm in my nude.
GRACE: I know. You're so naked these days. Since when did you start being naked all the time?
WILL: Well, since I started living alone.
GRACE: Hey, just 'cause you're naked doesn't mean you have to be cheeky. Bye, Will. Oh...remind me to get you a bookmark.
[GRACE EXITS TO HER APARTMENT.]
CUT TO GRACE'S APARTMENT
WILL: [ENTERING, NAKED, HOLDING A PILLOW OVER HIS MIDSECTION] Ok, this isn't working.
GRACE: Well, what are you telling me for? Talk to your urologist. Thank you, New York! [BOWS AND LAUGHS]
WILL: Now, maybe Jack and Karen were right. You know, maybe--maybe this moving across the hall hasn't solved our problem.
GRACE: Will, you just said Jack and Karen were right. I want you to cut wheat out of your diet.
WILL: Come on, look at you. You're still totally dependant on me.
GRACE: Why, 'cause I borrowed a pudding pack?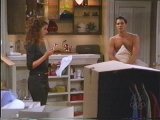 WILL: Grace, you borrow everything-- CDs, books, clothes. You spent half of last night looking through my apartment for bubble bath.
GRACE: So?
WILL: You don't have a tub!
GRACE: I hope you're at least planning on buying that pillow a drink.
WILL: Grace, do not deflect. You can't do anything without me. You can't have a bath. You can't eat pudding. God knows, you can't even cook a meal without me.
GRACE: Ah ha! That was me laughing without you. Because I happen to be throwing a fabulous dinner party tomorrow night.
WILL: You're not having a party.
GRACE: [BRITISH ACCENT] Oh, but I am. Perhaps you don't know about it 'cause you're not invited.
WILL: I'm not invited because there is no dinner party, Grace. Can't you see this arrangement isn't working? You have to move, and I don't mean across the hall, and I don't mean to another floor. I mean you gotta move somewhere out there! [POINTS OUT THE WINDOW WITH THE PILLOW]
GRACE: Ok, now I'm confused. Do you want me to move east or south? [LOOKS DOWN AT WILL'S CROTCH, WHICH HE QUICKLY COVERS WITH THE PILLOW]
SCENE V: Will's Apartment
(WILL is on the phone.)
WILL: [ON THE PHONE] Richard, hi. It's, uh, Will Truman. Yeah. Heh. Listen, I just wanted to call and thank you for, uh...recommending that John Updike to me. My favorite part? Um... When you smiled at me and said, "Thanks for shopping at Borders." Yeah. Well... Listen, I just thought I'd call and see if...if you wanted to have a drink with me. Well, great. Gre-- Hi! I'm holding for Richard. Oh! Oh, hi! Richard. It's--it's Will Updike, the guy-- W-Will Truman! Will Truman. Not Will Updike. I'm--I'm a true man, not an up...dike. Would you--could you hold for a minute? [PUTS THE PHONE ON HOLD THEN SMACKS HIS FOREHEAD WITH IT] Idiot! [ON THE PHONE] Hi. So, um, listen. You know, when I was at Borders the other day, and you thanked me, I didn't say "You're welcome" and I-- Pardon me? [BEAT] Yes, I would like to have a drink with you. Tomorrow night would be good. Ok. I'll look forward to it, too. Bye. [HANGS UP AND GRABS HIS FOREHEAD] Ow!
SCENE VI: Grace's Apartment
(GRACE is arranging a blanket on the floor, with plates, cups and silverware on it, in picnic style.)
[knock, knock, kn-knock knock]
GRACE: Ohh.
[GRACE OPENS THE DOOR. KAREN IS HOLDING A BAG.]
GRACE: Hi.
KAREN: Hi, honey. Great dress. Where are Fred and Ethel? Here. I brought you a little housewarming gift. [KAREN DROPS THE BAG ONTO HER ARM]
GRACE: Oh. Oh! Oh, thank you. Thank you. That was really sweet of you. [OPENING THE BAG] Oh. A martini set. And an open bottle of gin.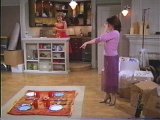 KAREN: [NOTICING PICNIC ON THE FLOOR] Oh. Ha. Grace... What, um... What is this about? [POINTING]
GRACE: Ok, you can stop with the hands of judgment. I don't have any furniture yet, so I thought it would be kind of fun to have a picnic.
KAREN: Oh, I get it. Kind of like Saratoga before the races. Except there's no grass or trees. And of course, Saratoga doesn't smell like a litter box. [KAREN WALKS ACROSS THE "PICNIC AREA" KNOCKING OVER PLATES AND CUPS]
GRACE: Actually, it's just like the picnics I had growing up-- watermelon, apple pie, drunken bitter Aunt Greta. [GLARES AT KAREN] Karen, can you just please try and have a good time?
KAREN: Oh. Ok, honey. I'll try. [HOPPING UP AND DOWN, CLAPPING] Oh, this is gonna be a wonderful party! A picnic! All of Manhattan will be abuzz! [GIVES TWO THUMBS UP] Speaking of Manhattans and a buzz... [GRABS THE BOTTLE OF GIN AND EXITS TO THE BATHROOM.]
[THERE IS A KNOCK AT THE DOOR. GRACE IS REARRANGING THE PICNIC AREA KAREN KICKED. KNOCK-KNOCK AGAIN.]
GRACE: Coming, coming. I'm coming, coming.
[GRACE OPENS THE DOOR. IT'S ROB AND ELLEN.]
ELLEN: Hi!
GRACE: Hi! Hi!
ELLEN: This is for you. [HANDS GRACE A BOTTLE OF WINE.]
GRACE: Thank you. Hi. Come on in. Come on in. So, isn't it cute?
ELLEN: It's so cute.
ROB: So, so cute.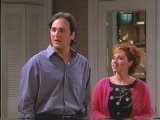 ELLEN: [BEAT] Where's Will?
GRACE: Oh, he--he's not coming.
ROB: Oh. [BEAT] You guys get into a fight?
WILL: No.
ELLEN: So, I don't get it.
GRACE: He's in his apartment, and I'm in mine...throwing a dinner party.
ROB: Oh. [BEAT] Who cooked?
GRACE: I did.
ELLEN: [HIDING BEHIND ROB] She cooked, Rob.
ROB: So, uh, is Will coming later?
KAREN: [OFF-SCREEN, YELLING FROM THE BATHROOM] Oh, for God's sake, it's just gonna be the 4 of us! Grab a bottle, hunker down, and pray for daylight!
SCENE VII: Will's Apartment
(JACK is helping WILL pick out clothes.)
WILL: D-does this go with this?
JACK: Does "no" go with "way"?
WILL: Ok, you're no longer helping. Out. I don't need you here doing a Joan and Melissa Rivers on me.
JACK: [LIKE JOAN RIVERS] Oh, Cybill, what's with the gloves? Did the eczema flare up again? [FINGER IN MOUTH, GAGGING]
WILL: Out, out, out.
JACK: Now, Will, I understand you're anxious 'cause Grace isn't here to dress you and burp you. But tonight's gonna be great. I think it's fantastic you're getting out there again, and watch. You'll see. Everything's gonna be just fine.
[TELEPHONE RINGS]
WILL: [ANSWERING PHONE] Hello. Oh, hi, Richard.
JACK: Uh-oh.
WILL: Yeah, t-that's fine. Uh, I'll be here. Take your time. [HANGS UP] He's just running a little late.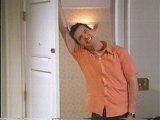 JACK: Ooh. Ouch. Wow. You ok?
WILL: What do you mean, am I ok? Why wouldn't I be?
JACK: Tsk tsk tsk. Will, have you totally forgotten how to speak our language? "Running late" is gay for "I'm blowing you off."
WILL: Really. What's gay for "get out"?
JACK: That would be "good morning."
[BEAT]
WILL AND JACK [BOTH]: Good morning, Jack.
SCENE VIII: Grace's Apartment
(GRACE, KAREN, ELLEN and ROB are sitting around the "picnic." KAREN, ELLEN, and ROB look bored.)
GRACE: So how's the soup? Everyone loving the soup?
ELLEN: It's a little cold.
GRACE: It's gazpacho. It's supposed to be cold.
ELLEN: Ok. It's bad.
ROB: Honey...
ELLEN: [SOTTO TO ROB] What? What do you want me to say? You want me to lie to her like I did about the hors d'oeuvres?
ROB: Honey...
GRACE: No, I-it's ok. It's ok. I mean, the most important thing is that everyone's having fun. Ha ha ha ha.
ROB: Heh heh.
KAREN: Honey, what's the second-most important thing?
ROB: [GRABBING HIS BACK, IN PAIN] Ohh! Aah. Do you have a chair?
ELLEN: Sitting on the floor-- really bad for his back.
ROB: Yeah. I'm like the Al Pacino of back problems. [CHANTING] Sciatica! Sciatica!
ELLEN: Ha ha! Rob! [SLAPS ROB ON THE BACK, LAUGHING]
ROB: [IN PAIN] Oh, god, no!
ELLEN: Rob!
KAREN: [TO GRACE] Good Lord, where'd you find these two?
ELLEN: You know what? I--I bet we can borrow a chair from Will.
GRACE: No. No, no, no, no. No, we don't need Will. I-- look, I-I'll make a chair. I'll make a chair. Um, I'll just--look. Look, look, look. Look, I will just, um, I'll just throw, uh... a sheet over this box. Look, we're having fun. We're improvising. We're draping. See? And we're sitting.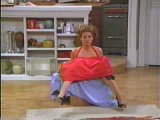 [GRACE DRAGS A BOX OVER, PUTS A SHEET OVER IT AND SITS DOWN. SHE FALLS INTO THE BOX.]
GRACE: And we just located my missing waterpick.
KAREN: Grace... You're stuffed in a box getting rid of ass plaque. Take it as a sign. This evening is a bust.
GRACE: [NERVOUS LAUGHTER] Heh heh heh heh heh. I-I-it's not.
KAREN: Honey, honey, it's over, ok? You never had a chance in hell without Wilma. Ok? Now, you know I've never been a big fan of Will's, but let's face it, the girl knows how to entertain, ok? All right? All right?
GRACE: Obviously, I know how to entertain.
ROB: What's that smell?
GRACE: [YELLING] It's cat pee! A cat has peed. The entire apartment is soaked in cat urine, ok?!
ROB: Smells like rosemary.
GRACE: Oh, that's the chicken.
WILL: [ENTERING] Excuse--
ROB: Will! Will!
ELLEN: Oh, thank god! Will! [ROB AND ELLEN RUN OVER TO HUG WILL. ELLEN WRAPS HER ARMS AROUND WILL'S NECK.]
WILL: Ok. Hi. Hi. Hi.
GRACE: Will, what are you doing here?
WILL: It's just I just need to talk to you. I had a date tonight with the borders guy, and he called to say that he's running late. That was an hour ago. Is that some kind of code for he's blowing me off?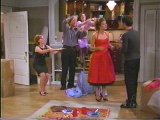 GRACE: Will, I'm sorry. Excuse me, but you're gonna have to leave. [KAREN AND ROB ARE FRANTICALLY WAVING BEHIND GRACE'S BACK AND ELLEN IS HOLDING A TRAY OF HORS-D'OEUVRES AND SHAKING HER HEAD] 'Cause I'm in the middle of a very lovely dinner party with my friends. [GRACE TURNS AROUND AND YELLS AT KAREN, ROB, AND ELLEN] Put down the cheese and return to the picnic area!
[ROB AND ELLEN SIT DOWN AT THE PICNIC.]
WILL: Grace, d-did you hear me? I--I really need to talk.
GRACE: I'm sorry, you need to leave, 'cause I'm about to serve the entrée.
WILL: I'm just asking for a little advice.
GRACE: No, what you asked for was an independent life, and that's what you have now, so go home, read in the nude, and play with your pudding. [SLAMS THE DOOR IN WILL'S FACE]
SCENE IX: The Hallway outside WILL and GRACE's Apartments
(WILL is paying for a pizza as GRACE exits her apartment with a garbage bag.)
WILL: [TO PIZZA GUY] Thanks. [TO GRACE] Hi.
GRACE: Hi. You know, I've been thinking, and... maybe you were right, you know, about me being too close and not being independent and... [GRACE OPENS WILL'S PIZZA BOX AND TAKES A PIECE]
WILL: No. No, I--I was crazy that day. All I'd had for lunch was Bugles, so I didn't--
GRACE: No. No. No, you were right. This across the hall thing, it was--it was a bad idea. So tomorrow I'm gonna wake up, I'm gonna get the paper, and I'm gonna start looking for a place somewhere... out there.
WILL: Grace, you don't have to do that.
GRACE: No, I do. I do. I mean, I can deal with the occasional bad dinner party. Awful, by the way. I blame the ghost of little kitty pee-a-lot. But if me living this close is turning into some sort of crutch, for the both of us, then--then it isn't working. And I should--
WILL: You--
RICHARD: [ENTERING THE HALL FROM WILL'S APARTMENT] Mind if I take that? I'm starving. [TO GRACE] Hi. [RICHARD EXITS TO WILL'S APARTMENT WITH THE PIZZA.]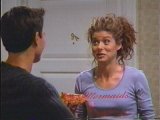 GRACE: Or maybe it is working.
WILL: [WHISPERING] Call you.
GRACE: He's cute. Is he funny?
WILL: [WHISPERING] Gotta go. [WILL TRIES TO SHUT HIS DOOR, BUT GRACE IS POKING HER HEAD IN THE DOOR]
GRACE: [WHISPERING] Wait, Will. Tell me. No. Wait. He's a cutie. Did I interrupt something? Am I about to interrupt something?
WILL: Bye-bye. [SHUTS THE DOOR IN HER FACE]
GRACE: Ok. [GRACE MOVES BACK TOWARDS HER ROOM]
WILL: [OPENS HIS DOOR, WHISPERING] Grace. I'll tell you everything over breakfast. [WILL HOLDS OUT HIS INDEX FINGER AND GRACE TOUCHES IT] Love you.
SCENE X: Karen's Penthouse, Rosario's Room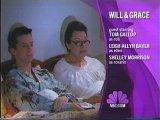 (JACK and ROSARIO are sitting in bed; JACK watching TV, ROSARIO reading a book.)
ROSARIO: I'm going to Costco tomorrow. You need anything?
JACK: Socks.
ROSARIO: The kind with the ball on the end or the plain tubes?
JACK: Sweetie, you choose. It's six of one...
ROSARIO: I like a tube sock on a man.
JACK: Me, too.