Vorik, Ensign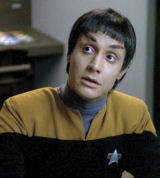 Vorik
Alexander Enberg
CURRENT ASSIGNMENT:
Staff Engineer, U.S.S. Voyager NCC-74656
BIOGRAPHICAL DATA
Vorik is a Vulcan junior officer aboard U.S.S. Voyager, where he performs engineering duties under the supervision of Chief Engineer B'Elanna Torres. In 2373, he began the pon farr, the Vulcan mating season. Since there are no Vulcan females on Voyager, he turned to B'Elanna Torres, and proposed marriage, which she promptly rejected. When Vulcan meditation didn't help control the urges, he tried to mate with Torres, however she defeated him in the kunat kaliphee (the Vulcan 'challenge').
SERVICE RECORD
2367-2370 Attended Starfleet Academy.
2371 Posted to U.S.S. Voyager NCC-74656. Engineer.
2374 Assisted with Borg Transwarp experiment which resulted in warp ejection.
2374 Assisted with construction of The Delta Flyer.
2377 U.S.S. Voyager returns to Alpha Quadrant through a Borg transwarp conduit, destroying the transwarp hub in the process.
PHOTOGRAPHIC RECORD
---