Tal, Ensign Adira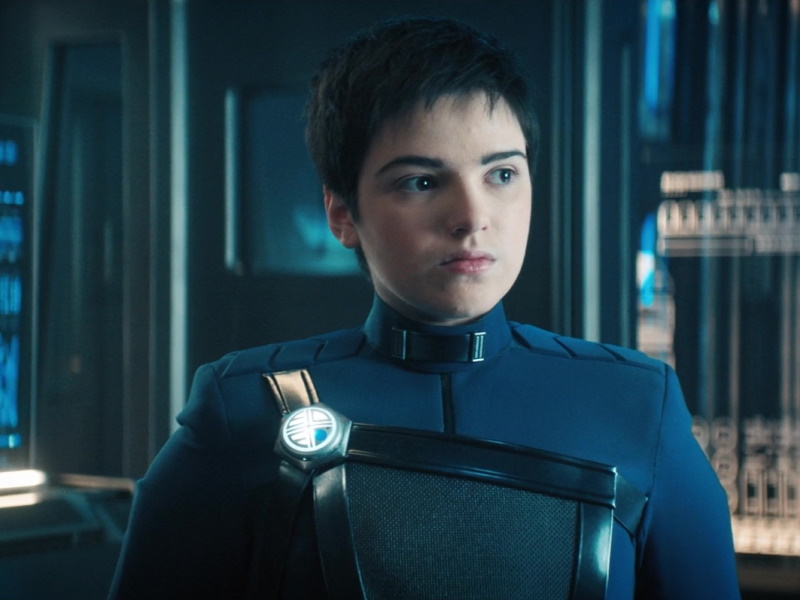 Adira
Blu del Barrio
CURRENT ASSIGNMENT:
Staff Engineer, U.S.S. Discovery NCC-1031-A
PREVIOUS ASSIGNMENT:
Inspector, United Earth Defense Force
BIOGRAPHICAL DATA
PLACE OF BIRTH:
3173, Earth
Adira is a 16-year-old human prodigy, an inspector for the United Earth Defense Force in the 32nd century.

Adira revealed to the crew of the U.S.S. Discovery that she carried the Trill symbiont of former Starfleet Admiral Senna Tal. Under the guise of helping the crew of the U.S.S. Discovery, she hoped they would help her access the memories of the Tal symbiont.

In 3189, Adira visited the Trill homeworld and the Caves of Mak'ala, and was able to fully connect with the Tal symbiont. The previous Tal hosts were Kasha, Jovar, Madela, Cara, Senna, and Gray. Afterward, Adira expressed they would like to be referred to with genderless pronouns (they/them).

Adira was in a relationship with Gray when he went through the joining. Gray Tal suffered a fatal injury and the symbiont had to be immediately removed. Adira volunteered to join with Tal.

In 3189, they aided in rescuing Su'Kal from the dilithium planet in the Verubin Nebula, and discovered the source and cause of The Burn. After returning to Federation Headquarters, Adira was granted a Starfleet commission and the rank of Ensign.
SERVICE RECORD
3189 Travelled to the Trill homeworld with the U.S.S. Discovery
3189 U.S.S. Discovery makes contact with what remains of Starfleet and the Federation
3189 Completed training on refit of U.S.S. Discovery NCC-1031-A
3189 Aided in rescuing Su'Kal from the dilithium planet in the Verubin Nebula
3189 Granted Starfleet commission and rank of ensign
PHOTOGRAPHIC RECORD
---