Saru, Captain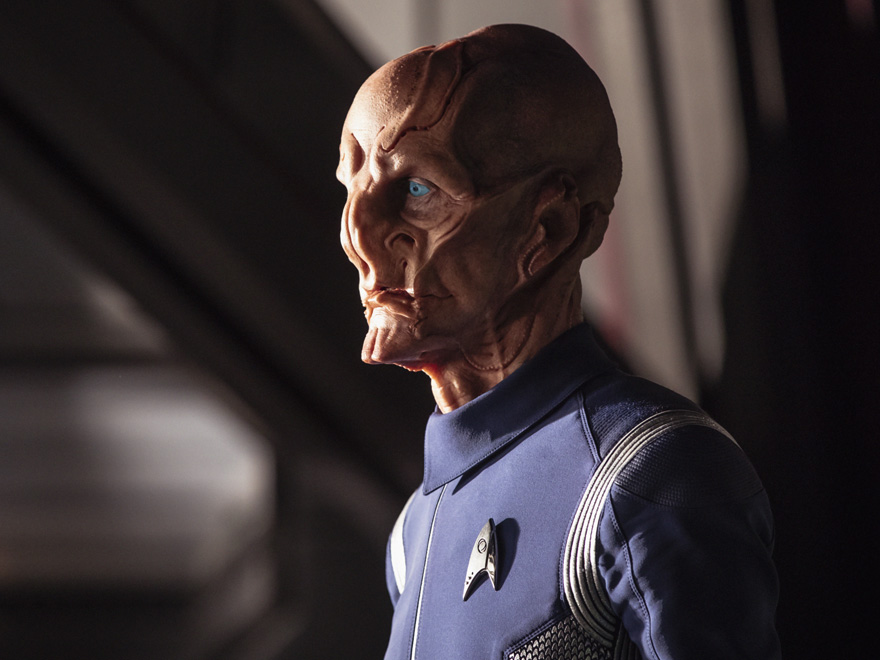 Lt. Cmdr. Saru
Doug Jones
CURRENT ASSIGNMENT:
Executive Officer, U.S.S. Discovery NCC-1031-A
PREVIOUS ASSIGNMENT:
Chief Science Officer, U.S.S. Shenzhou NCC-1227
BIOGRAPHICAL DATA
Saru is the first and only Kelpien to serve in Starfleet.

Saru used Ba'ul technology to send a signal into space. It was picked up by the U.S.S. Archimedes, which was the first Starfleet vessel to make contact with Kaminar. Lt. Philippa Georgiou served on the on the U.S.S. Archimedes at the time, and she granted Saru amnesty, bringing him onto the Archimedes.

In 3189, he aided in rescuing Su'Kal from the dilithium planet in the Verubin Nebula, and discovered the source and cause of The Burn. He took a temporary leave of absense to return Su'Kal to Kaminar and help him acclimate to life outside his holoprogram.
SERVICE RECORD
2249 Promoted to Lieutenant. Assigned to U.S.S. Shenzhou NCC-1227, Science Division
2255 Promoted to Lieutenant Commander, Chief Science Officer
2256 U.S.S. Shenzhou lost at Battle at the Binary Stars
2256 Promoted to Commander; Assigned to U.S.S. Discovery NCC-1031, First Officer
2256 Aided in destruction of the Klingon Sarcophagus/Ship of the Dead
2257 Awarded Starfleet Medal of Honor for helping to end the Federation/Klingon war
2257 Served on U.S.S. Discovery during battle with Section 31 Control; Discovery lost during the battle
3189 U.S.S. Discovery makes contact with what remains of Starfleet and the Federation
3189 Supervised crew training on refit of U.S.S. Discovery 1031-A
3189 Aided in rescuing Su'Kal from the dilithium planet in the Verubin Nebula
PHOTOGRAPHIC RECORD
---