Rom, Grand Nagus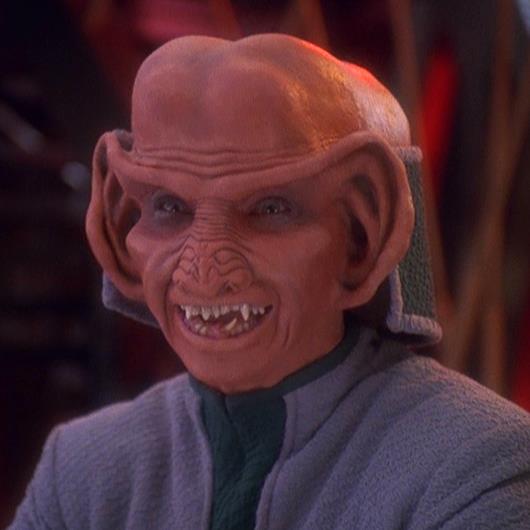 Rom
Max Grodénchik
AFFILIATION:
Ferengi Alliance
CURRENT ASSIGNMENT:
Grand Nagus, Ferengi Alliance
PREVIOUS ASSIGNMENT:
Maintenance Technician, Junior Grade, Deep Space 9
BIOGRAPHICAL DATA
PLACE OF BIRTH:
Ferenginar
Rom was often teased by other children, led by Quark, about his smaller lobes and about supposedly being adopted; the nickname of "Moogie" for his mother has been a lifelong habit since an early age. His father's Naming Day presents to him were swapped for old vegetables by Quark, who resold the gifts at a profit over what Keldar had paid.

After the birth of his son Nog in 2354 and his marriage contract to Prinadora dissolved, he left home on Ferenginar for good in 2361, 10 years after Quark did, but not before witnessing firsthand his father's lack of business sense as his brother never had the chance to. Long subservient to Quark and the target of his public ridicule, Rom could have been a starship chief engineer, his son later says, if he hadn't given up a mechanical career to "be a good Ferengi" and seek profit — the reason Nog wants to avoid such a life and be in Starfleet; neither one has "the lobes" for business.

Rom married Leeta, a Bajoran dabo girl on Stardate 50975 (2373).

In 2375, Rom was appointed to succeed Zek as the Ferengi Grand Nagus. Rom's embracing of Zek's proposed social reforms was key in the Grand Nagus' decision.
SERVICE RECORD
Classified
PHOTOGRAPHIC RECORD
---