Ogawa, Lieutenant Alyssa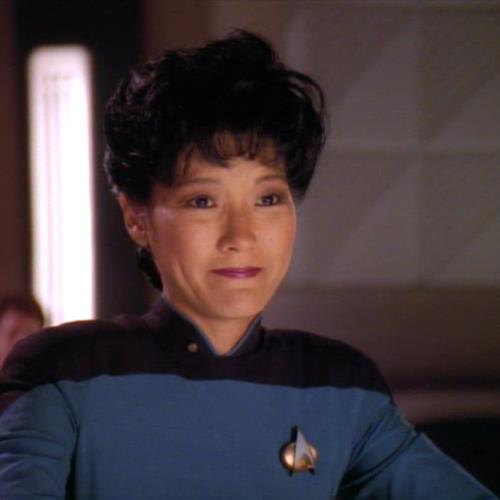 Nurse Alyssa Ogawa
Patti Yasutake
FULL NAME:
Nurse Alyssa Ogawa
CURRENT ASSIGNMENT:
Chief Nurse, U.S.S. Enterprise NCC-1701-E
PREVIOUS ASSIGNMENT:
Nurse, Starbase 133
BIOGRAPHICAL DATA
PLACE OF BIRTH:
2343, Earth
Cheerful and competent, Alyssa Ogawa quickly became a indispensable member of the U.S.S. Enterprise-D Sickbay's medical staff. In 2370 Ogawa married Lt. Andrew Powell and later became pregnant. Unfortunately, Alyssa later lost the unborn baby as a result of the temporal anomaly in the Devron system.
SERVICE RECORD
2362-2366 Attended Starfleet Medical Academy.
2366 Assigned to Starbase 133.
2367 Posted to U.S.S. Enterprise NCC-1701-D, Ensign.
2370 Promoted to Lieutenant, Junior Grade.
2370 A sample of Ogawa's amniotic fluid was used to develop a cure Barclay's Proto-morphosis Syndrome.
2371 Helped care for injured personnel after the Enterprise-D was destroyed on Veridian III.
2372 Posted to Sovereign-class U.S.S. Enterprise NCC-1701-E.
2372 Promoted to Lieutenant.
2373 Served on U.S.S. Enterprise-E during Borg temporal incursion.
PHOTOGRAPHIC RECORD
---