Eddington, Lieutenant Commander Michael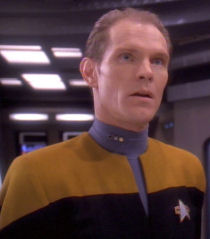 Michael Eddington
Kenneth Marshall
FULL NAME:
Michael Eddington
CURRENT RANK:
Lieutenant Commander
CURRENT STATUS:
Deceased, 2374
PREVIOUS ASSIGNMENT:
Starfleet Chief of Security, Deep Space 9
BIOGRAPHICAL DATA
Starfleet security officer and Maquis leader. Sisko vowed to capture his traitorous former officer, although the two eventually formed a deep mutual respect. A romantic, Eddington died saving his wife and Sisko from Jem'Hadar forces in 2373.
SERVICE RECORD
Attended Starfleet Academy
2371 Posted to Deep Space Nine, Chief of Security - Starfleet Operations.
2372 Resigned commision and joined the Maquis.
2373 Captured by Captain Sisko and taken into custody.
2373 Courtmartialed and sentenced to prison.
2374 Released from prison to help Sisko find cloaked Maquis missles launched toward Cardassia. There were no missles; it was a ruse to get the remaining Maquis out of the DMZ. Eddington was killed by the Jem'Hadar while allowing Sisko and the Maquis to escape.
PHOTOGRAPHIC RECORD
---