Star Trek
---
"Charlie X"
| | |
| --- | --- |
| Episode Number | 2 (1.02) |
| Production Number | 8 |
| Season | 1 |
| Stardate | 1533.6 |
| Original Airdate | 15-Sep-1966 |
| Story | Gene Roddenberry |
| Teleplay | D.C. Fontana |
| Director | Lawrence Dobkin |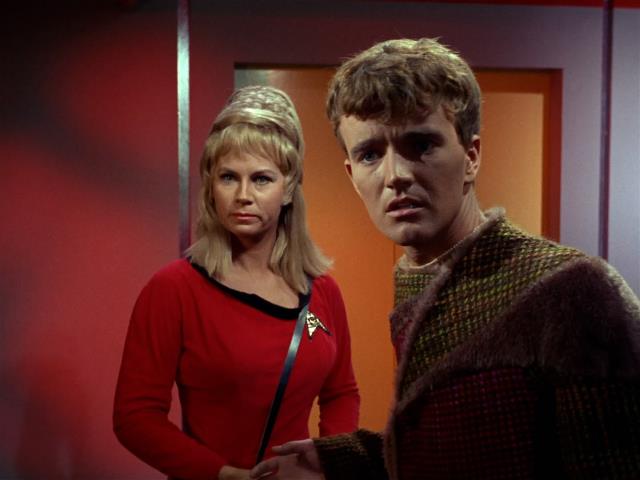 Synopsis
17-year old Charlie Evans, the lone survivor of a colony expedition that crashed on the planet Thasus 14 years ago, comes aboard the U.S.S. Enterprise from the science vessel S.S. Antares. When Captain Ramart of the Antares contacts Kirk about Charlie, the S. S. Antares is suddenly destroyed and strange events begin occurring whenever Charlie is angered.
Guest Cast
Robert Walker (Charles Evans)
DeForest Kelley (Dr. Leonard H. McCoy)
Grace Lee Whitney (Yeoman Janice Rand)
Nichelle Nichols (Lt. Uhura)
Charles Stewart (Captain Ramart)
Dallas Mitchell (Lt. Tom Nellis)
Don Eitner (Navigator)
John Lindesmith (Helmsman)
Patricia McNulty (Yeoman Tina Lawton)
John Bellah (Dr. Harrison)
Garland Thompson (Technician Wilson)
Abraham Sofaer (The Thasian)
Robert Herron (Sam)
Notes
Kirk states that there are 428 people on board the Enterprise.

Yeoman Rand is the first woman that Charlie has ever seen, and he develops a crush on her.

This episode takes place on Thanksgiving day on Earth; Charlie turns the meatloaves into turkeys.
---