Star Trek: Enterprise
---
"Stigma"
| | |
| --- | --- |
| Episode Number | 40 (2.15) |
| Production Number | 40 |
| Season | 2 |
| Stardate | |
| Original Airdate | 05-Feb-2003 |
| Teleplay | Rick Berman & Brannon Braga |
| Director | David Livingston |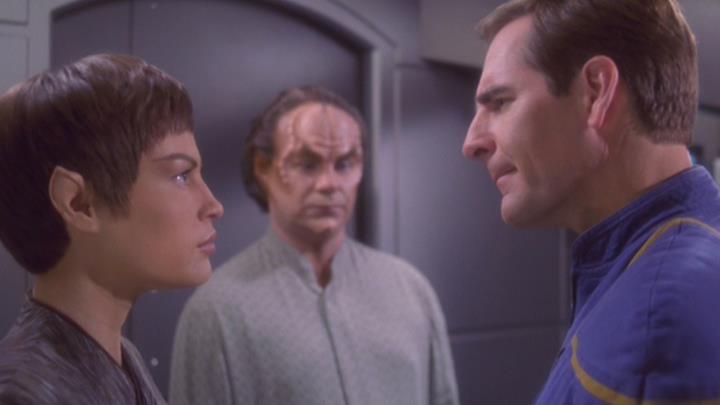 Synopsis
Enterprise arrives at Dekendi III for a meeting of the Interspecies Medical Exchange. T'Pol's standing on Enterprise is threatened when it is learned that she has contracted Pa'nar Syndrome, a deadly disease that faces prejudice by Vulcan society. Meanwhile, one of Phlox's wives arrives to install a neutron microscope in Sickbay.
Guest Cast
Melinda Page Hamilton (Feezal)
Michael Ensign (Dr. Oratt)
Bob Morrisey (Dr. Strom)
Jeffrey Hayenga (Dr. Yuris)
Lee Spencer (Vulcan Doctor)
Notes
Pa'nar Syndrome is contracted through mind-melds. Tolaris forced T'Pol to mind-meld in "Fusion".

Feezal is Phlox's second wife, who takes a liking to Trip.

Yuris tells the others that T'Pol was forced, so she is allowed to remain.
---